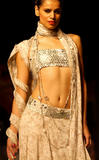 Neha Kapur
What's your style quotient all about?
I give a lot of importance to small details while dressing up. A person should understand their strengths and weaknesses and try and highlight them in their sense of dressing.
Your perfect eveningwear and casual statement?
A simple black dress makes up for the perfect eveningwear for me. In my free time, I love to pair jeans with high heels, a comfortable tee and a jacket.
Your recommended style for hair?
I like long hair, they look beautiful. And I don't support colours at all, natural brunette is the best.
Five accessories that you can't do without?
My arm band, my belts, heels and caps, there is no fifth one for me.
Shoes - Three must-haves in your collection?
Pumps, sneakers and a pair of comfortable and stylish chappals.
How much of peek-a-boo is right for you?
Too much is when it looks deliberate. I think peek-a-boo is sexy and hot!
Your biggest fashion disaster?
Fashion disasters happen, when you're not comfortable in what you're wearing. It doesn't happen much with me.
Your fashion no-no?
A mini skirt with high heels and a tank top.
Your style icon - who and why?
I really admire Madonna, she looks different every single day.
Your favourite Indian fashion designer?
Tarun Tahiliani, as his designs complement the Indian body well.