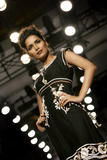 Tapur Chatterjee
For me, sports is something which builds a person both physically and mentally. There are about 33 sports, but swimming inspires me the most. I have taken part in various swimming meets at the club level back home in Kolkata. I won a few and lost many. But I discovered that swimming builds a person's personality, and I can vouch for the fact that it has done the same to me.
Swimming has played a vital role in my life. I might love this sport, but I will never venture into the pool alone, not because I am afraid of water, but the real fun in being in the water is with friends. Fortunately, I have friends who too love swimming, and a 'swim out' with them makes my day as well as theirs.
Of late, I have not been able to swim due to a back problem. I am waiting for the D-day, when I receive the green signal from the doctor and get to plunge into the pool again. I am sure that day is not far away. I am not an ardent follower of swimming as a sport, though. Freestyle is my pet event and all the medals I had won in my school days were in this event.
I like football too. I do play football, but not as seriously as I swim. Cricket is just not my piece of cake. I feel that I can do better things in life than watching cricket.