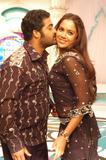 Actress
Sameera Reddy
, belongs to the genre of the sensual women, who were born to have hips, breasts and thighs as an indicator of fertility and beauty. The traditional Indian woman – with all the right curves.
Sameera was earlier an overweight girl, constantly compared to her conventionally pretty sisters – Sushma and Meghna. She wanted to prove herself, and that's when the struggle began.
"It took me a lot of self-introspection and conviction to believe that I too was beautiful. I used to swim and jog 6 kms daily. And let me tell you it was tough."
Her defining line:
Sameera says "I exercise to feel good and healthy not just to have a slim body."
Her Vital Stats
Height - 5'6''
Her Diet
Careful with her diet, Sameera skips aerated drinks, has lots of fruits, a healthy vegetarian lunch and a high protein dinner between 8 - 9 pm. "Since the body's metabolism slows down, it's better not to eat later than that. I also find it healthier to have smaller meals through the day rather than having two heavy meals.
I smoke and drink very occasionally. But when it comes to food, once a week I let myself go and eat whatever I want to."
Her Stress-buster
Prone to stress frequently, her best stress-buster is cross training or swimming.
Sameera Reddy !!