Aarti Chhabria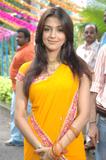 Definitely hit it big down south, in bollywood all she got was some disappointing roles in crap movies.
Aarti Chhabria plays the infamous bar dancer Tarannum in the new movie '
Shoot out at Lokhandwala
'
She's a fairly decent actress actally.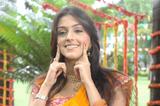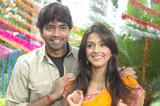 Acting is her passion
Aarti Chabria is the new face of Bollywood who wants to explore all facets of acting, finds out RAJIV VIJAYAKAR
She is here to stay, though she does not rule out a change of plan in the future, like maybe after finding a Mr Right. "When you want a long innings," says Aarti Chhabria as she relaxes in her South Mumbai flat during a whirlwind interview session, "You cannot do any and every film that is offered to you. I am particularly conscious that two consecutive roles should be completely different from each other."
The actress who made a cameo debut as Danny Denzongpa's daughter in Rajkumar Santoshi's Lajja (2001) and became a heroine with Venus' Tumse Accha Kaun Hai last year, breathes out expressively and rolls her eyes when I ask here how she feels answering the routine questions about her new role and film a dozen times.
Daughter of a city dentist in real life, Aarti got her first hit when she played a moony assistant to a dentist in reel life in Vikram Bhatt's hit Awara Paagal Deewana. In her fourth film, Raman Kumar's Raja Bhaiyya, she plays her first solo lead role opposite the irrepressible Govinda.
"I am playing myself for the first time in the sense that I am a glamourous, rich girl," reveals Aarti, "But something happens and I lose my memory and my mental level becomes like that of a child. It's almost like playing a double role. Right now that's all I can divulge of the story, but I think that I am very lucky to have got a role with such depth and intensity so early in my career. Unlike APD which was a slapstick comedy, this film will make you chuckle one moment and have moist eyes the next," she says.
After Raja Bhaiyya she is doing Miss You with Sohail Khan. "I want to do good work," she explains. "I am also doing a Telugu film with three heroes led by Sriram and Rasool Ellore is my director." Discussions are on for more projects both in Mumbai and the South. "The way they work down there is amazing. Punctuality is vital and they give as much importance to the heroine as the hero, unlike in Mumbai," she explains.
Though she is only a few feature-films old, Aarti is a veteran in front of the movie camera, for she was all of three years old when she first faced it for a Farex commercial. "I have done commercials literally all my life and ever since I could remember I loved facing the camera and wanted to act. It excited me even at the age of eight to hear the magic words, 'Lights! Camera! Action!'. I also watched movies a lot." Asked to name some of her better-known pre-film work, she lists the first-ever Pepsodent ad (another dental connection!), LML Trendy, Clean & Clear Face Wash and Freshna. Aarti also did music videos for albums by Sukhwinder, Harry Anand and Adnan Sami.
Having worked with big names like Rajkumar Santoshi, Vikram Bhatt and Raman Kumar, what has she learnt from each of them?
Says Aarti, "Raj-ji was a hard taskmaster who would take a shot again and again till he was satisfied. Though my role was small, I shot almost for 15 days."
She also remembers Vikram Bhatt telling her that APD wasn't really his kind of cinema and thus giving her a lot of space. "But to play this girl who was crazy about mafia dons I had auditioned for five whole days with writer Neeraj Vora and we had gone into the finest detail of the role, so it was easy." Raman Kumar, director of Raja Bhaiyya, stressed on Aarti losing all inhibitions and freaking out on the role.
Work, says Aarti, is worship for her, and she aspires to reach the heights of her favourite actresses Madhuri Dixit, Urmila, Kajol and Madhubala, who got into the skin serious about things, Aarti says that she even did tremendous homework for her 'beautiful and subtle role' in her Telugu debut. "I learnt the exact meaning and pronunciation of my lines so that the dubbing artiste finds things easy and the lip-sync does not look fake."